Our Review of the Buttermilk Company's Indian Food
ARE YOU READY FOR A GROUNDBREAKING DISCOVERY?!
We had the chance to try the Buttermilk Company's Indian Food packets and were blown away by the authentic taste, minimal cook time, and readable ingredients for a ready to eat packet. Our avid readers know we are all girls on the go. We are committed to fresh healthy food, but don't always have the time to support that commitment.
When the Buttermilk Company reached out and asked us to try a few Indian food meals, we were beyond excited. We've dedicated this blog to teaching folks about traditional Indian cooking, but can agree that Indian food is tedious at times. It is so exciting to find a ready to eat option that is easy to make and doesn't have any hidden ingredients (because you better BELIEVE we'd find out!)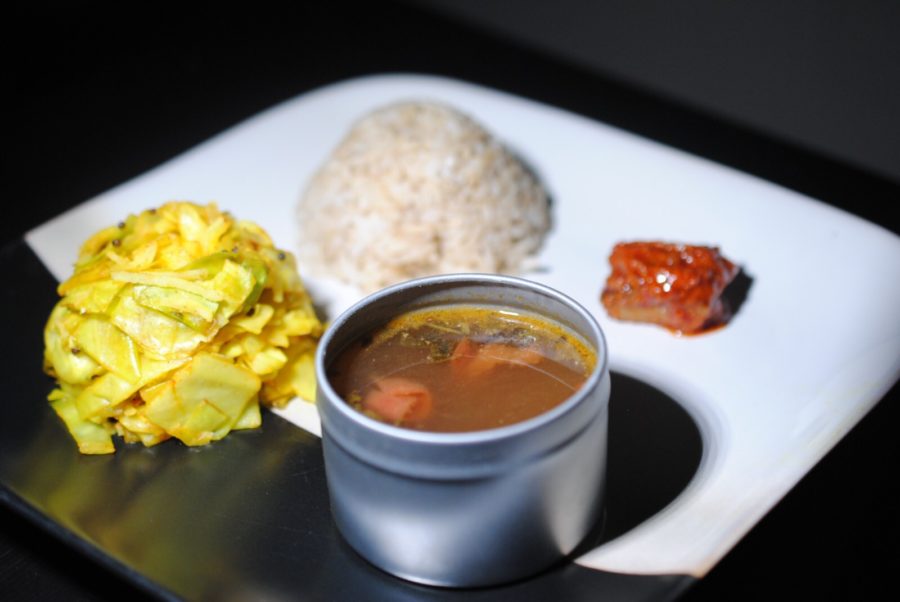 So? Is it good?
YES YES YES. Thanks for asking. We tried the chana masala and the rasam packets. The chana masala was perfect for dinner after a long day at work. I tried it with a simple bowl of brown rice and a spoon of Indian mango pickle. It absolutely hit the spot. It is definitely not as spicy as we typically like our masala dishes, but that's completely a personal preference. You can always add a dash of chili powder before it hits the stove or microwave, or do what we did and add some pickle!
The next day, we ripped open the rasam in a bout of excitement (what can I say? Rasam does that to a girl). The aroma that shoots right out of the packet when you open it – that's poetry. It smelled just like our mom's rasam, and looking at the ingredients on the back of the packet, you can tell that's exactly what it is. We ate it with brown rice and cooked cabbage with our ole friend mango pickle, and it was sensational. It's exactly how mama makes it, without comprising any harsh ingredients, and costing us just 2 cups of water.
What is it and how does it work?
Founder Mitra Raman founded the Buttermilk Company as a homesick college student pining for her mother's homemade rasam (one word: relatable). She launched the company in 2017 so others could enjoy authentic Indian food by just adding water, just like her mother taught her in college. For the rasam and the chana masala packets we tried, all we had to was add the required amount of water to the contents of the packet and microwave it! While we are not in college anymore (though some of us still have our student IDs…), this is a great idea for anyone running a hectic lifestyle, traveling constantly, or spending long hours working.
Once you tear the packets open, there's a rich aroma of spices that pops right out. There are instructions on the back of the packet for either a stovetop or microwave cooking option, which is really convenient, because we never know where exactly we fall on the laziness spectrum at any given moment. It's also helpful for work travel, if there's only a microwave in your hotel room! Your food is ready in minutes, and has all the ingredients (and nothing more) that you'd use to make it homemade.
What do you mean it's ready to eat?
There's a bunch of different meals to choose from. Some are soups and gravies (rasam, sambar, etc) that supplement a rice dish. Others, like poha, kichdi, or upma, you could eat right on its own from the cooked packet. If you're just starting out eating healthy Indian food, we recommend starting with their "Best Seller" pack, which includes upma, daal, chana masala, poha and basmati rice. That's plenty to get started, and you can mix/match packets to construct a meal. Some of the combo packs tailor to gluten-free diets, and low or high spice preferences. You can create your own combo packs too to make the meals that feel right to you. One packet could generously make two meals (for you and… you!! Or share, whatever.)
Is this real life?
Ah, glad you asked. Yes, yes it is. If you'd like to try it yourself, head to the Buttermilk Company website and shop around! Our readers will receive 10% off by using the code CUMINNATURE10 for the first 50 people to use, so hurry up and get the instant Indian food you deserve.
Have you tried the Buttermilk Company? Let us know what you think in the comments below! Can't wait for you to try it!
Comments
comments
---
---