We always have bananas on hand, mostly because my husband chops up one banana in his oatmeal every morning. It always gets to the point at the end of the week where I see a couple mushy bananas sitting in our fruit bowl atop the fridge.
That means one thing to me: vegan chocolate banana bread!
Banana bread is one of the easiest baking items, and has a major plus point of being moist and versatile. I've taken banana bread to dinner parties and have made it on a slow Saturday afternoon just for us. If you top with your favorite jam and include heaps of fresh berries and nuts on top, it becomes a wholesome breakfast that is chock full of antioxidants and nutrients.
What I love about this bread: it is simple.
All of these ingredients are pantry staples. If you're down to your last few bananas and they've seen better days, all you need is an hour on your hands to whip up a loaf that you'll be eating all week. If you're out of something, don't fear. Here are a few basic substitutions that will get you there:
All-purpose flour or gluten-free flour
I've tried both for this recipe, and either works. I typically use all-purpose flour, but have started working with gluten-free flour to get used to different consistencies. If you have a gluten-free flour that asks for a 1:1 ratio in baking recipes that calls for all-purpose flour, you're in luck! Here is one we typically use: Bob's Red Mill Gluten-Free 1:1 Baking Flour. If you'd rather use spelt flour, you can use that 1:1 as well.
White sugar or brown sugar or monkfruit sweetener
I say this often, but I am a huge fan of monkfruit. Monkfruit is native to southern China, and is known for its sweetness and lack of calories. You read that right – no calories. Nil. Zilch. Nada. We use this monkfruit sweetener from Lakanto that is a 1:1 sugar substitute. Of course, white sugar or brown sugar in this recipe would work just fine, but why not try a natural alternative that doesn't pack the calories, just the sweetness?
Maple syrup or vanilla extract
I didn't have vanilla extract on hand (I've been baking a storm during quarantine and ran out!). Apparently, maple syrup is an equal parts substitute! If you have 100% pure, grade A maple syrup, even better. We buy this one from the Coombs Family.
Flaxseeds or constarch
I'm not a fan of using cornstarch, ever. It contains mostly (you guessed it) starch, and is pretty high in calories and carbs with little to no nutritional value. If I see cornstarch on a label, I'm not going to be dead against it (especially if it's a fruit pie… damn you, fruit pies!). But I don't have it in the house, since there are SO many substitutes for cornstarch that act as a great thickening agent or smoothener. For this recipe, I used flaxseed meal dissolved in water as a thickener. At first, I was worried that the gritty texture of the flaxseed would be an issue, but you cannot taste it at all. The bread came out smooth as silk. Flaxseed is a great ingredient to put on your "pantry staples" list, especially if you are an avid baker or smoothie maker. It is a plant-based food that provides healthful fat, antioxidants, and fiber. We're sold.
Overall, this is a SUPER easy recipe for classic banana bread, made vegan and gluten-free friendly! The batter takes about 10-15 minutes to throw together tops, and the bread stays fresh for up to 4-5 days. Nothing beats the smell of fresh bread baking in the oven, and this so no different! If you try it, please give us your feedback in the comments.
More Vegan Banana Bread Recipes:
If you are looking for more baking inspirations, here are a few of my favorite vegan banana breads in the blogosphere: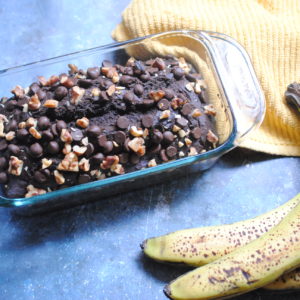 Easiest Vegan Chocolate Banana Bread
Vegan Banana Bread made with flaxseed, maple syrup, and monkfruit sweetener. It is gluten-free friendly, and has no calories from sugar. The result is a moist, decadent and chocolately bread that is great with a side of your favorite jam or topped with berries.
Ingredients
1 1/3

cups

all-purpose flour or sub gluten-free flour

1/2

tablespoon

ground flaxseeds dissolved in 2 tablespoons water

1/2

cup

cocoa powder

1

tsp

baking powder

1

tsp

baking soda

1/2

tsp

salt

2

very ripe large bananas

1/3

cup

non-dairy milk

1/3

cup

oil

1/3

cup

brown or white sugar

I'm using monk fruit

1

tsp

pure maple syrup

or vanilla extract

1

tsp

apple cider vinegar

chocolate chips and walnuts for topping

optional
Instructions
Preheat the oven to 350˚F. Grease a 9-inch loaf pan (lining is optional – I try to minimize parchment paper for one time use).

Whisk together the flour, cornstarch, cocoa, baking powder, baking soda and salt in a medium bowl.

Separately, mix together the non-dairy milk, oil, sugar, maple syrup, and apple cider vinegar. Mash the bananas with a fork and stir into this mixture.

Pour the wet mixture into the flour mixture and whisk together until just combined.

Pour the batter into the loaf pan. You can sprinkle chopped walnuts and chocolate chips as an optional step, but it is highly recommend for maximum chocolate flavor.

Bake for about 45-50 minutes, or until a toothpick or fork comes out clean when inserted in the middle. If you'd like a moister bread, then leave it in for less time.

Let cool completely in the pan. Then use a knife to separate the bread loaf from the sides of the pan and carefully place the loaf on a serving plate.

Slice and enjoy!
Notes
The flaxseeds dissolved in water is my holy grail substitute for cornstarch. Ground flaxseeds are very absorbent and form a jelly when mixed with water. You cannot taste the gritty texture of the flaxseed meal at all, though cornstarch is known for having a very smooth texture. If you'd rather use cornstarch directly, use double the amount of flaxseed (i.e. 1 tbsp of cornstarch).
This banana bread is easily gluten free by using a gluten-free flour blend 1:1.
I used all-purpose flour, but spelt flour, oat flour or whole wheat flour works too. The banana bread won't get as fluffy and soft as when using a lighter flour, but the flavor remains. Adjust the liquid by adding more non-dairy milk if needed, as different flours absorb liquid in varying amounts.
Instead of sugar, I always use monk fruit sweetener. Regular sugar works fine, of course.
I use maple syrup instead of vanilla extract on days I'm running low. The substitute is 1:1, and either ingredient works in this recipe.