South Indian Yogurt Rice is exactly what it sounds like: yogurt with rice. You take cooked rice. You smother it with yogurt and mix the two together (with your hands for best results). And, voila!
You might be thinking, did these Cumin Nature girls seriously think they could show up to this recipe blog game with something as simple as mixing yogurt with rice? The simple answer is, yes.
But, sometimes you can find abundance in the simplest of things.
When I was young, we ate yogurt rice at the end of every meal. A Tamil dinner typically consists of three courses. The first two are savory and filled with spice. Yogurt rice is the MVP that brings it all home. It cools the stomach and returns it to the appropriate pH balance. Of course, as an 8-year-old, all I knew is that it made me feel all warm and fuzzy inside. And, doesn't that feeling reflect the best memories of childhood? Therefore, it's not surprising that as I grew older, yogurt rice became a staple. It made me feel like I was back home no matter how far away I was.
Some things did change, however.
I started eating yogurt rice as a standalone meal. Mostly, this was because I don't have my mother's uncanny ability to whip up a three course Tamil dinner after a long day of work, which she somehow magicked onto our plates most days of the week (shoutout to immigrant mothers!). But, the amazing thing about yogurt rice is that it works perfectly well on its own … if you know how to embellish. And, the process of embellishment is a very personal thing. My favorite way to eat yogurt rice is to add tempered mustard seeds, curry leaves, and red chilis to it. You can also eat it with a side of sautéed or roasted vegetables. If you just don't feel like taking that pan out of the cabinet, you can simply eat it with a side of potato chips and lemon pickle.
Yogurt rice's versatility is boundless. It is also rich in nutrients. Yogurt contains probiotics, which are good bacteria that are excellent for digestive health. Ending a meal with yogurt rice leaves the stomach happy and soothed.
Step one to making South Indian yogurt rice is cooking the rice.
For yogurt rice, add a bit more water (approximately 2-4 tablespoons) than you normally would. Soft rice is the perfect carrier for the yogurt. Note: Do not cook the rice in excess water that you then have to drain because this severely reduces the iron and nutrient content of the rice. The recommendation we give is to add just a bit more water and pressure cook it so the resulting texture of the rice is a bit softer.
Step two is your yogurt selection.
What yogurt do you use? If you're eating it as an end to your meal, I'd suggest an unstrained yogurt. If you venture to an Indian grocery store, try the Desi Dahi yogurt. It is soft and liquidy. If you're eating it as a standalone meal, try a strained yogurt like Greek Yogurt to allow a higher protein content. If this is a bit too thick for you, you can water it down with (wait for it) a bit of water or, if you don't mind a bit of fat, buttermilk (this is super yum!) or sour cream. If you're vegan, try Forager's cashewmilk yogurt. It has the same consistency as unstrained yogurt and is perfect with whole wheat basmati rice.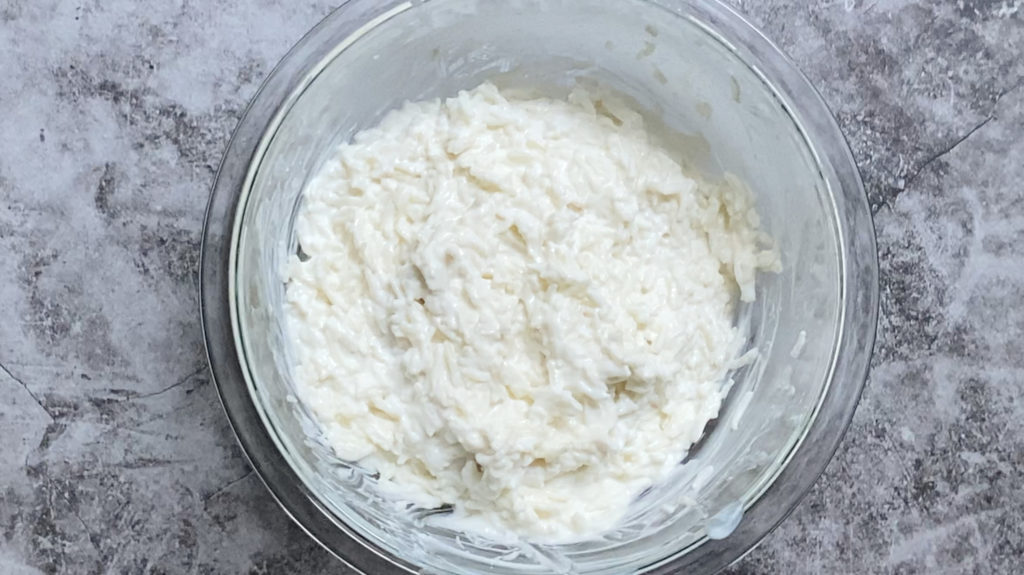 Step three is where your real creativity shines.
Get the basics right in steps one and two, then you can start to embellish based on the flavors you like or your current mood. Honestly, I am perfectly happy eating a bowl of yogurt and rice on its own. But, there are many ways in which you can embellish it. Try some of these options below, together or separately:
Mix in a tadka (shallow fry) of any combination of the following: cumin seeds, mustard seeds, green chilis, curry leaves, urad dhal. The recipe below provides one possible combination. See also our Pongal recipe for another tadka example.
Eat it with a side of spiced pickle. Indians from all over the country make spicy pickles out of vegetables and fruit, preserved in brine, vinegar, and oils. My favorites include mango, lemon, and gooseberry pickle. All Indian stores will carry a large range of these spiced pickles, some are even found on Amazon, and they all pair perfectly with yogurt rice. Some brands you might come across: Patak, Priya, and Mother's Recipe.
Keep it simple and have it with a side of chips! I like to keep things super simple so I gravitate to salted kettle chips. For something more fun, have it with these jerk plantain chips from Trader Joe's (or make your own!).
Have it with a side of shallow fried vegetables. Pick your favorite vegetable and fry with salt, pepper, and chili powder. Paired with yogurt rice and it's a complete meal!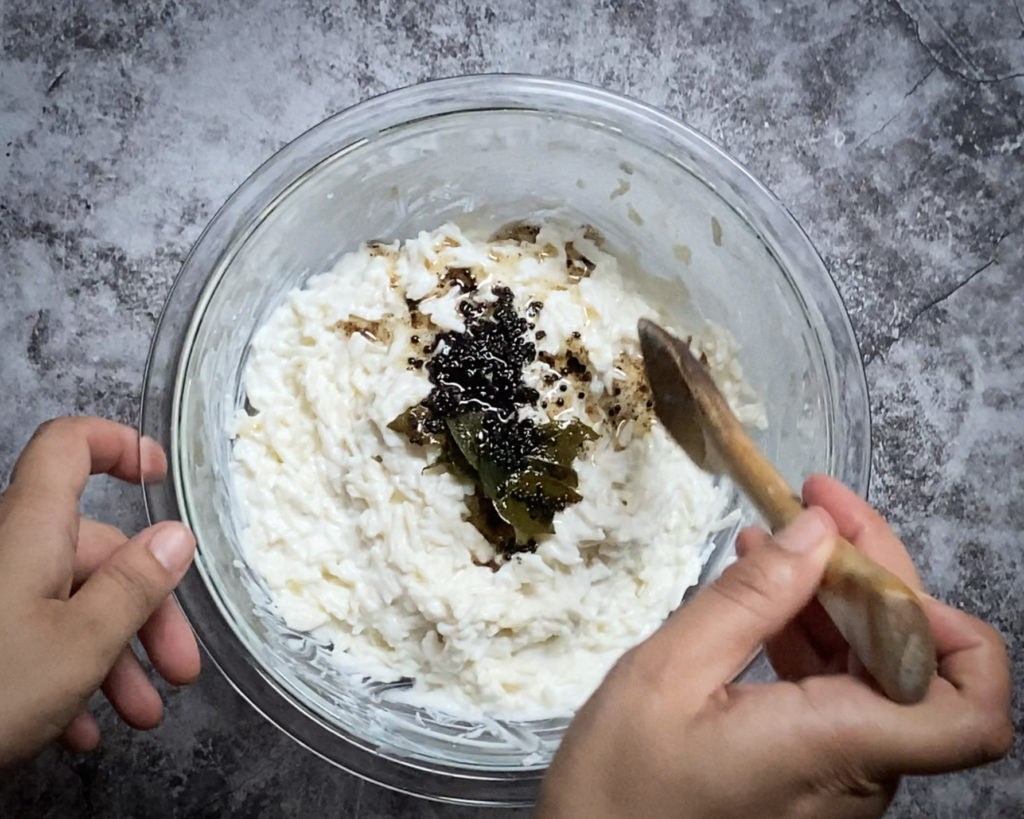 Be creative and make it your own. Play with textures. Yogurt rice is soft and cool, so pair it with something crunchy. The possibilities are endless. Pro tip: if you're having a tummy ache, skip the above and just add just a little bit of salt. It'll soothe that ache in an instant.
If you close your eyes and think about that perfect dish that brings you back to the best moments of your childhood, this is it for us. So, we are so excited to share yogurt rice with all of you! Let us know what you think!
South Indian Yogurt Rice ('Thayir Saadam')
South Indian Yogurt Rice is a staple meal that requires staple ingredients: yogurt, cooked rice, spices, and oil. The comfort of a cool, creamy porridge is pared with an aromatic spice blend made powerful through a simple tempering technique often referred to as 'tadka.' The beauty of this recipe is that it involves whatever you have on hand. If you are hard-pressed to find urad daal, incorporate something else crunchy like cashews. If you have cilantro leaves on hand, add them! If you are not interested in adding any chili peppers, don't! The yogurt and rice are the base, and your creativity is the cream on top.
Ingredients
2

cups

cooked Basmati rice

2

cups

plain whole-milk yogurt

1

teaspoon

kosher salt

or to taste

2

tablespoons

canola or vegetable oil

1

tablespoon

urad dal

white gram lentils

1

teaspoon

black mustard seeds

1/4

teaspoon

asafoetida powder

found at Indian grocery stores

4-6

curry leaves

torn in halves
Optional garnish:
Cilantro leaves

Roasted cashew halves

Dried red chilies

Grated ginger

Mango, lime or tomato pickle to serve
Instructions
In a large bowl, combine the rice, yogurt, and salt, kneading them together with your hands. Make sure you include enough yogurt so the mixture has a creamy, not dry, texture.

Prepare the tadka, or tempering spices. In a small saute pan, heat the oil over medium heat. Once the oil is hot, add in the lentils. Add the mustard seeds and wait for them to start popping. Immediately add asafoetida and urad dal. Stir briefly. Turn off the heat and add curry leaves. If you choose to add other garnish, such as cashews, ginger, or chilies, add them in now. Stir to combine.

Add the tempered mixture to the yogurt rice bowl. Finish with any additional garnish (cilantro is the perfect addition). Serve cold at room temperature. We suggest serving with mango pickle, and something crispy (roasted potatoes, papad, or for the Western diet – potato chips).